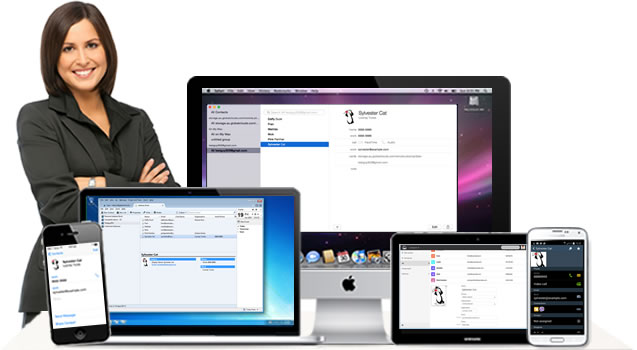 Contact Synchronization is a vital service in this multi device world. Once you use it you will wonder how you ever lived without it. See all of your contacts on all of your devices all of the time ~ then change one – change all!
Contact Sync uses an address book extension to the WebDAV file sync service called CardDAV. CardDav allows your devices, be they mobiles, PCs or Servers, to access a remote address book. As a change is made to a contact record on a device it is replicated to the cloud.  From there an update is pushed to your other devices.
Multiple contact lists can be created in your cloud. For example create a Friends and Family contact list, a personal list and one or more business contact lists. There is no limit. This is done to easily share different information with different people.
Creating and editing different contact lists is easy. Depending on your client software your contact management program or app will handle multiple contact address books and display one common list on each device.  When you create a new contact you select which list to use.
Different contact lists can be shared as read, read/write, read/reshare or read/write/reshare with team members, friends and family as you determine.
Personal Clouds Family clouds Business clouds
File Sync Calendar Sync Camera Sync